Restore Hyper Wellness is an award-winning industry leader in the health and wellness field, with a commitment to providing affordable, high-quality wellness services to its customers which helps them to improve overall health. They promise to provide people with the best plan for aging, optimize their sleep, decrease inflammation, and many more to make them feel better.
The purpose of this blog post is to provide an in-depth look at Restore Hyper Wellness and its various services, as well as to highlight its mission, values, and scientific approach to promoting overall health and wellness.
What is Restore Hyper Wellness?
James Donnelly and Trey Owen started Restore Hyper Wellness in Austin, Texas, in 2015. Their initial facility featured cryotherapy and IV drip therapy as part of their mission to offer the community high-quality wellness services at reasonable prices. Since then, Restore Hyper Wellness has grown to encompass more than 60 locations across the country, providing clients with a variety of treatments.
What's The Mission Of Restore Hyper Wellness
Restore Hyper Wellness' goal is to open up well-being to all people. They think that regardless of one's background or financial situation, everyone deserves to feel their best and lead an active, healthy life. Because of this, they are dedicated to providing accessible, scientifically supported wellness services that are customized for each unique client.
Innovation, accountability, and a love for wellness are at the heart of Restore Hyper Wellness. They continually look for cutting-edge therapies and practices that might aid their clients in achieving optimum health and wellness in an effort to be at the forefront of the wellness sector.
What Services Does Restore Hyper Wellness Offer?
A variety of services are available through Restore Hyper Wellness, all of which are intended to advance general wellness and health. Among the services provided are:
Cryotherapy
In cryotherapy, the body is subjected to extremely low temperatures for a brief period of time (usually two to three minutes). Cryotherapy has several advantages, such as lowering inflammation, boosting circulation, enhancing the immune system, and enhancing sports performance.
IV Drip Therapy
This procedure involves administering a specific combination of vitamins, minerals, and nutrients intravenously (IV). An increase in energy levels, an improvement in immunological function, and a decrease in the effects of stress and weariness are all advantages of IV drip therapy.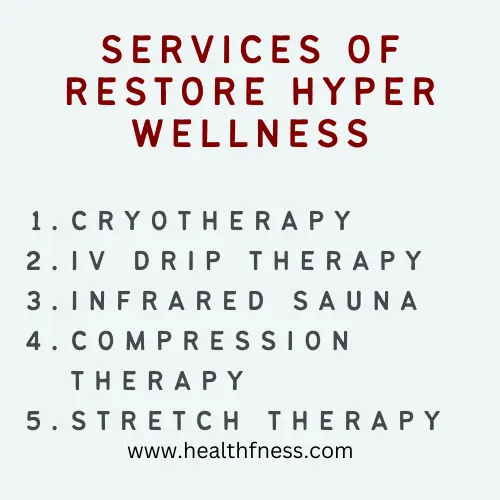 Infrared sauna
Using infrared technology to heat the body from the inside out, an infrared sauna offers a number of advantages, including pain reduction, detoxification, and enhanced cardiovascular health.
Compression Therapy
This procedure uses air pressure and compression sleeves or boots to improve blood flow and lessen swelling in the legs and feet. Compression therapy benefits include increased circulation, less muscular soreness, and accelerate post-workout recovery.
Stretch Therapy
This technique uses aided stretching to increase the range of motion, flexibility, and mobility. Stretch treatment has many advantages, such as lowering the chance of injury, enhancing posture, and easing stiffness and stress in the muscles.
At Restore Hyper Wellness, each service is tailored to the individual needs of the customer, and the benefits can vary depending on their health and wellness goals. For example, someone who is training for a marathon might benefit from cryotherapy to improve athletic performance and reduce muscle soreness, while someone who is recovering from an injury might benefit from compression therapy to improve circulation and speed up recovery time.
Restore Hyper Wellness has numerous success stories from customers who have seen improvements in their health and quality of life. For example, one customer with fibromyalgia saw a significant reduction in pain and inflammation after receiving IV drip therapy. Another customer with arthritis saw a reduction in joint pain and stiffness after using the infrared sauna. These success stories are a testament to the effectiveness of the services offered by Restore Hyper Wellness in promoting overall health and wellness.
You May Also Like To Read: Proton Therapy For Lung Cancer
Restore Hyper Wellness Membership Cost
The price of Restore Hyper Wellness membership varies according to the location and the particular services provided. Nonetheless, Restore Hyper Wellness offers reasonable membership packages that are intended to offer ongoing assistance and savings to those who utilize their services frequently.
For instance, some places provide cheap monthly memberships that provide customers access to a set amount of services each month. In other places, packages are available that can be ordered in advance and utilized over time. When compared to purchasing individual services, these packages frequently offer discounts.
To get specific pricing information, it is best to visit the Restore Hyper Wellness website or contact your local location directly. The staff at Restore Hyper Wellness are always happy to help answer any questions and provide guidance on the best membership options for your needs and budget.
The Science Behind Restore Hyper Wellness
Restore Hyper Wellness is grounded in science and evidence-based practices. The services offered at Restore Hyper Wellness are based on scientific principles that have been proven to promote overall health and wellness.
Cold therapy, or cryotherapy, involves exposing the body to extremely cold temperatures for a short period of time. The benefits of cryotherapy are supported by scientific research, which has shown that exposure to cold temperatures can reduce inflammation, improve circulation, and increase energy levels. Studies have also shown that cryotherapy can help improve athletic performance, reduce muscle soreness, and aid in recovery after workouts.
Compression sleeves or boots that employ air pressure to enhance blood flow and decrease swelling in the legs and feet are known as compression therapy. Compression treatment is supported by scientific studies that demonstrate how it can enhance circulation, lessen muscular soreness, and hasten the recovery process following workouts.
The crew at Restore Hyper Wellness is well-versed in the science underlying the services they offer and has years of experience in that field. The team consists of seasoned wellness coaches, qualified athletic trainers, and licensed healthcare professionals. Every customer will receive the best attention and service possible thanks to the staff's dedication.
Awards and Accolades
Restore Hyper Wellness has been recognized with numerous awards and accolades for its outstanding contributions to the health and wellness industry. Some of these awards include:
Entrepreneur Magazine's Franchise 500: In 2021, Restore Hyper Wellness was named #162 on Entrepreneur Magazine's list of the top 500 franchises in the United States. This recognition highlights Restore Hyper Wellness's success as a franchise business and its commitment to providing high-quality wellness services.
Inc. 5000 List of Fastest-Growing Companies: Restore Hyper Wellness has been named to the Inc. 5000 list of fastest-growing companies for three consecutive years (2019, 2020, and 2021). This prestigious list recognizes companies that have shown significant growth and success in their respective industries.
Franchise Times Fast & Serious List: In 2020, Restore Hyper Wellness was named to Franchise Times' Fast & Serious list, which recognizes franchises that have achieved significant growth while also maintaining a strong commitment to quality and customer service.
Conclusion
In conclusion, Restore Hyper Wellness is a recognized leader in the health and wellness sector that is dedicated to offering its clients premium wellness services at competitive prices. Customers can benefit from a variety of services, such as cryotherapy, IV drip therapy, infrared sauna, compression therapy, and more, to reach their health and wellness goals and live a happy life.
The company's various honors and awards serve as further proof of its dedication to provide excellent customer service and top-notch products and services.
Was this article helpful?